About Prague
Places of Interest
Prague is historical, architectural and cultural city. Its historical center has been included in UNESCO world heritage since 1992. There are many interesting and famous places close to the venue.
More information can be found at the official tourist website for Prague, including more photos.
Karlovy Lazne
Karlovy Lazne is a 5 story dance club. It is located 35 meters from the venue.
Charles Bridge
Charles Bridge is just few steps from Novotneho Lavka (the venue).
Following photos, depicting Charles Bridge and Prague Castle, were taken at the vicinity of Novotneho Lavka (Novotneho Lavka is "behind the right border of pictures").
Prague Castle
According to the Guinness Book of Records, Prague Castle is the largest ancient castle in the world. Formerly the seat of kings, it serves as a house of the president today. Prague Castle is in walking distance from Novotneho Lavka (the venue).
Lesser Town
On your trip towards Prague Castle you would walk on Charles Bridge and through Lesser Town. Lesser Town is the second oldest part of Prague (after Old Town). You will be surrounded by houses in baroque and gothic style with many shops and restaurants in their ground floors and cellars.
Old Town Square
Old Town Square with its famous Astronomical Clock on the Old Town Hall is just 10 minutes walk from Novotneho Lavka (the venue).
Jewish Quarter
Next to the Old Town Square you can find Jewish Quarter (or Jewish Town). It creates a triangle bordered by Parizska street, Kaprova street and Vltava river. Here you can hear the legend of Golem created by Rabbi Löw.
Dancing House
Dancing house is a piece of modern architecture built in 1996. To get there, you can take tram 17 and go two stops to Jiraskovo namesti. However, we recommend you to walk along the Vltava river and enjoy the view of Prague panorama.
More information can be found at the official tourist website for Prague, including more photos.
---
Cuisine
Enjoy local meal and famous Czech beer in many local pubs and restaurants.
---
Outside of Prague
Although Prague is the place of interest #1, there are also other interesting places in the Czech Republic.
Prague Neighbourhood
Close to the south-west border of Prague you find marvelous nature surrounding Berounka river. Koněpruské limestone caves, Karlštejn and Křivoklát castles, and Nižbor glassworks are most frequented points of interest.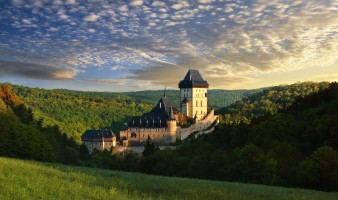 Kutná Hora
Historical center of Kutná Hora (located about 80 km to the east of Prague) with medieval silver mines, st. Barbora church, and part of Sedlec suburb where ossuary is located, are listed as UNESCO world heritage since 1995.
Český Krumlov
Český Krumlov in south Bohemia is famous for its historical center on the meanders of Vltava river, and the second largest castle with fabulous park. It is listed as UNESCO world heritage since 1992.
Breweries
Czech Republic is renowned for its beer that is brewed in several large and many local small breweries. Did you know that "Pils" type of beer is named after Pilsner Urquell? It is the world's first-ever pilsner type blond lager, created in Pilsen on 5th October 1842.